Bull Trout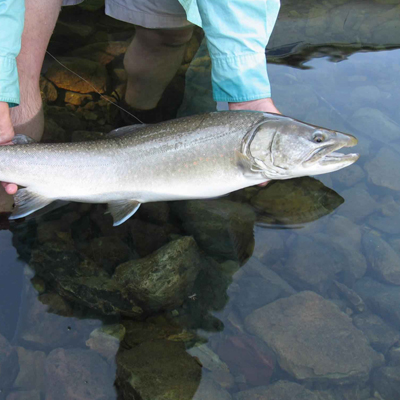 NOTE: we do not target bull trout.  They are a protected species.  However we do hook and land them on occasion.  When we do, they are released.
About Bull Trout
Sourced from Wikipedia:
The bull trout (Salvelinus confluentus) is a char of the family Salmonidae native to northwestern North America.[4] Historically, S. confluentus has been known as the "Dolly Varden" (S. malma), but was reclassified as a separate species in 1980.
Like other species of char, the fins of a bull trout have white leading edges. Its head and mouth are unusually large for salmonids, giving it its name. Bull trout have been recorded measuring up to 103 cm (41 in) in length and weighing 14.5 kg (32 lb).
Young bull trout feed on zooplankton and zoobenthos, especially chironomids. As they grow larger, they begin to feed heavily upon other fish. In coastal Washington, some of the southernmost populations of bull trout feed heavily on salmon eggs and fry, as well as fish.