Steelhead Fishing Guides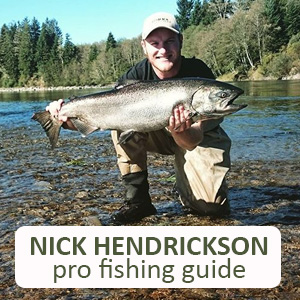 The Olympic Peninsula Fishing Guide offers steelhead fishing guides for those who want to
catch this prized game fish. We have been in business for many years, and our guides are
experts at finding the best fishing spots for steelhead. The knowledgeable and friendly guides
make them perfect for any fishing adventure. We can provide all the gear and tackle needed to
catch these fish and teach basic techniques to help you become a better angler. Whether
you're an experienced fisherman or just starting, our experienced steelhead fishing guides can
help you have a great time on the water.
The trips are often tailored to meet your specific needs and expectations, so you can expect to
get exactly what you're looking for out of your fishing adventure. The steelhead fishing guides
have years of experience in the area, so they know all the best spots and how to get there. We
also provide advice on what type of gear to bring, as well as any local regulations that you
should be aware of.
We ensure that each fishing trip is safe, enjoyable, and successful. Our steelhead fishing guides are knowledgeable about the local fish and regulations and have the experience to help you catch as many steelheads as possible. We are always happy to provide tips and tricks for fishing so that you can get the most out of your time on the water. With our guidance, you'll be able to enjoy a great day of fishing. So if you're looking for a memorable and exciting fishing
experience, the Olympic Peninsula Fishing Guide is a perfect choice.