Steelhead Fishing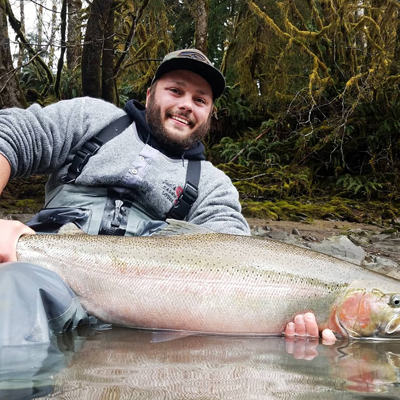 Steelhead fishing in the Olympic Peninsula of Washington State is a popular and rewarding outdoor activity. The Olympic Peninsula is renowned for its pristine rivers and abundant steelhead populations, making it a prime destination for anglers seeking this challenging and elusive species of fish. When fishing with Olympic Peninsula Guide Service we provide you with all necessary rods, reels, tackle, and equipment needed, however, here are some key points to consider when planning a steelhead fishing trip to the Olympic Peninsula:
Timing: Steelhead fishing in the Olympic Peninsula typically occurs from late fall through late spring. The best time to target steelhead varies depending on the specific river and its run timing, but generally, December through May is the prime season.

Rivers: Some of the famous rivers on the Olympic Peninsula for steelhead fishing include the Hoh River, Sol Duc River, Bogachiel River, Quillayute River, and the Calawah River. Each river has its own unique characteristics and regulations, so be sure to check the local fishing regulations before you go.

Equipment: You'll need specialized gear for steelhead fishing, including a good quality steelhead rod and reel, appropriate line, and a variety of steelhead-specific lures and bait. Make sure your gear is suitable for the type of fishing you plan to do (e.g., fly fishing, drift fishing, or spin fishing).

Techniques: Steelhead fishing in the Olympic Peninsula can involve various techniques, including fly fishing, nymphing, drift fishing, float fishing, centerpin fishing and side-drifting. The method you choose will depend on your experience level and river conditions.

Conservation: Steelhead populations are a valuable resource, and many rivers on the Olympic Peninsula have wild steelhead runs. Be sure to practice catch-and-release fishing when appropriate to help conserve these populations.

Weather: The weather on the Olympic Peninsula can be unpredictable, with frequent rain and cool temperatures. Be prepared for wet conditions and dress accordingly. It's also a good idea to check weather forecasts before your trip.